Washi Tape
Fun with Washi Tape
By Nadia Ten Cate
Washi Tape – Kim from K Craft 082 574 7929
Requirements
An assortment of washi tape rolls in colours that you like.
Items that can be decorated; we used an office theme and a party theme in our projects.
Instructions
Ensure that your surfaces are clean and then apply the washi tape using it as if it were  sticky tape. Use it in single strips or in multiple strips in contrasting or complimentary colours, as you prefer. There are no real instructions when it comes to washi tape – it's  best to let your imagination run free and just have fun.
We used the following themes as guidelines and decorated blank items that suited the two
themes.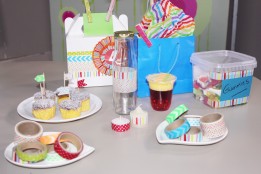 Party theme items:
Straws
Glass bottles
Cardboard cake boxes
Tea light candles and normal candles
Jars of sweets
Plastic knives and forks
Table numbers
Menus
Gift bags and wrapping paper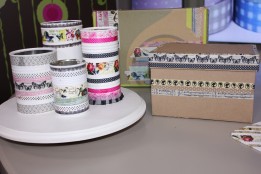 Office theme items:
Clip boards
Note books
Envelopes
Cards
Book marks
Rulers
Pens & Pencils
Staplers
Scissors