Decoupage
Project 1 – Parisian Treasure Box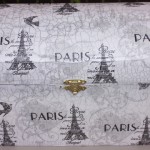 Parisian Treasure Box
by Miriam Johnson
Brasch Hobby
Requirements
Heritage Acrylic paint
Heritage Antique crackle base and top coat
A sheet of printed tissue paper
Heritage Modge podge
Paint brush or sponge brushes
Blank wooden treasure box
Magic touch in silver
Turpentine
A cloth
Solvent based varnish
Instructions
Step 1:

Paint your box in white or another colour of your choice and allow it to dry completely

Step 2:

Cut strips of tissue paper to fit the four sides and top of the box then use Modge Podge to stick each tissue piece to the box. Apply a coat of Modge Podge over the tissue paper once it is stuck down. Allow to dry and trim off any excess paper.

Step 3:

Using a new sponge brush, apply one coat of Heritage antique crackle base coat in horizontal paint strokes and allow it to dry completely. Once that is dry, apply a second coat of Heritage antique crackle base coat, this time in vertical brush strokes. Allow this to dry completely.

Step 4:

Using a different new sponge brush, apply a liberal layer of antique crackle top coat in any direction and allow it to dry completely. As this layers dries, so it'll begin to 'crack', starting from the outer edges. Don't try to speed up the process with a drier as this will prevent the cracks from forming properly. Allow to dry naturally until completely dry.

Step 5:

Apply magic touch paste over the entire box using a clean, dry cloth making sure it goes into the cracks. Allow it to dry for 1 hour and then rub off the excess with turpentine and a clean cloth. The cracks will be silver and more prominent now. Your treasure box can now be sealed with a matt or gloss varnish after which it'll be ready to be used.
 Project 2 – Textured Picture Frame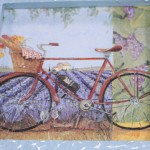 Textured Picture Frame
by Miriam Johnson
Brasch Hobby
Requirements
Heritage Contour paste
Pallete knife
Wooden frame
Heritage Acrylic paint
Sand paper
Heritage Water based varnish
Scissors
Tac-tac glue
A serviette with a nice design
Instructions
Step 1:

Apply a layer of contour paste quiet thickly onto the wooden frame. Dab it with a pallet knife to form some peaks and texture and allow it dry completely.

Step 2:

Paint the frame with acrylic paint in a colour of your choice. Once dry, apply a second layer of paint if necessary and allow this to dry as well.

Step 3:

Use sandpaper to lightly sand away some of the paint on the raised peaks formed by the contour paste. This will give the frame a distressed look. Dusts off the excess dust and apply varnish to seal the frame.

Step 4:

Cut out the picture from the serviette and remove the two back layers, so only the design layer remains. Apply some tact tac glue to the center of the frame backing. Let it dry for a few minutes before placing your serviette down and then varnish afterwards. Your picture frame is now finished and ready to be used.