Paper Art
Presenter Gloria Bastos is joined by Wesley Vogel from Paperworld SA. They'll be showing how to use eco-friendly textured handmade paper to create interesting works of art. First, they make an origami bird mobile and then later show to make your very own personal journal.
Origami Crane Mobile
By Wesley Vogel
Paperworld SA
Requirements
1 x Block of paper in the colour of your choice.
Sharp object like a metal skewer
Ribbon
Raffia
Large beads
Dowl stick
Tiger tale wire
Glue gun
Instructions
Refer to below for the folding instructions. Once you have folded the paper and you have a crane/bird proceed to step 2.
When you have finished folding your desired number of Cranes, take the sharp object and make holes at the top of each crane. This is where you will thread the tiger tale through.
You can thread beads onto the tiger tail, threading it through the beads twice to secure them. You can also tie some ribbon onto the string and thread raffia to add more detail. It's easier to put bigger beads at the base of the crane so they don't fall off.
Finish off your mobile by tying your Cranes to a dowl stick with string and decorate the stick with more ribbon, raffia, beads, using the glue gun to stick the embellishments on.
Folding Instructions
Click to enlarge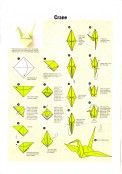 Handmade Journal
By Wesley Vogel
Paperworld SA
Requirements
Glue
Sharp tool to make small holes
Beading needle
Translucent beading string
A variety of A4 size sheets of handmade paper
1 A4 size piece of fabric or paper for the cover
Scissors
Embellishments
Instructions
Choose handmade paper you would like for the inside of the journal. Fold the A4 sheet in half to make an A5 size.
Place the sheets of paper on top of each other and make sure all the pages line up. Using the sharp tool make 4 small holes alone the folding line, two at the top and two at the bottom.
Stitch the album together using a beading needle and beading string. When you have finished stitching your journal together tie a knot in the end piece so it doesn't unravel. Now fold your journal in half again forming the A5 size, if your pages overlap use scissors and neaten them up.
Now take the piece of paper, board or fabric you want to cover your journal in, place your pages down and fold the sides over the ends of the journal. Just like you are covering a book, it's the same principle. Trim the pages if necessary and then glue the cover to the first and last pages. Remember to apply some glue to the spine of the journal so it is secure and doesn't move.
This is the fun part, you can now add the embellishments to your journal and personalize it the way you like it. Your journal is complete and ready to use.