Mosaics
On today's episode Gloria Bastos is joined by Marina Ehlers of Mosaic Arts. They'll be taking us through the process of making impressive projects using these beautiful tile pieces. First, Marina shows how to make a project of Africa and then later show how to make a mosaic star tree
By Marina Ehlers – Mosaic Arts 012 804 8498
Mosaic Africa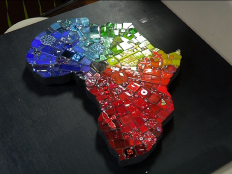 Requirements

A4 print out of the colour wheel and of the shape of Africa
Shutter plywood shape of Africa
Pencil
Selection of mosaic tiles of mosaic tiles, inserts, pebbles in glass, millefiori and semi-precious stones in the colours of the rainbow
Tile Nipper and/or wheel Cutters
Wood glue
Small Spatula
Dark Grey Grout
Rubber Squeegee (for applying Grout)
Sponge & bucket of water
Newspaper
Instructions
Making your Africa:
Decide on your colours – using a print out of the colour wheel and a negative cut out of the shape of Africa decide how you want the colours of your Africa to radiate.
Choosing your tiles -Separate your tile and insert colours into the shades of the rainbow – yellow, orange, red, green, turquoise, blue, indigo and violet.
Decide on a centre piece and where the centre of your Africa will be on the wood shape.
Preparing the layout –Draw lines radiating outwards from the central point and mark the different colours.
Lay your main inserts out so that there is a balance to the shapes and colours.
Making the mosaic – Fix the inserts and tiles by spreading a little wood glue on the underside of the tile and press into place.
Work your way around the shape remembering to radiate the tiles around the centre.
Grouting the mosaic – Mix dark grey grout with water. Apply the grout and work it into the gaps with the squeegee. Sprinkle a little dry grout over the surface to dry the wet grout quickly and use newspaper to rub the excess grout. Finish off the wood edge with a mixture of black grout mixed with wood glue.
Mosaic Tree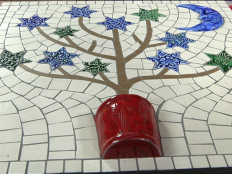 Requirements
Wooden square  (Supa Plywood or Shutter Plywood)
Pencil
Carbon paper
Pottery inserts of stars, moon and a pot
Mosaic tiles for the background and trees
Wood Glue
Tile cutters/nippers
Grout
Sponge
Rubber Squeegee
Newspaper
Cloth
Instructions
Making your Tree:
Draw the tree design onto the wood freehand or by tracing our template using carbon paper.
Lay your stars in position so that the stars are balanced on the design and glue into position.
Start by completing the border around the edges of your design.
Cut the tiles to shape with wheel cutters or tile nippers and glue them to the wood until the whole mosaic is complete.
Mix grout with water until consistency of toothpaste and smear grout into the gaps between the tiles.
Remove excess grout from tiles as soon as possible by sprinkling dry grout over the surface and rubbing with newspaper.
Wipe the tiles clean using a slightly damp sponge, and then with a clean damp cloth. Your piece is now complete and ready to be used.