Masai Boat
What you need: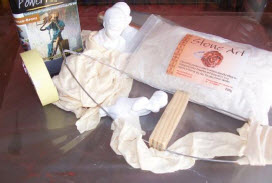 1 Litre Bronze Powertex (0057),
125g Stone Art (S125),
1 x wire boat (PX006),
2 x Masai heads (POP010 and POP011),
2 pieces of 24cm x 40cm aluminium foil,
 2 x small pieces of aluminium foil to cover the wire legs,
masking tape,
6m x 3cm cotton knit fabric strips,
2 x pieces of cotton knit fabric
16cm x 50cm, 2 x 15cm pieces of wire for legs.
Instructions: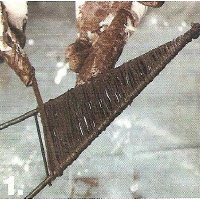 Paint Masai heads with Powertex Bronze and leave to dry plus minus 15 minutes.
Dip the narrow strips of cotton knit into Powertex to coat and wring out any excess Powertex. The fabric must not be dripping. Start wrapping the wire boat tightly. The loose ends of the fabric can just be pushed under the wrapped pieces.
Continue wrapping until the boat is fully covered. Set aside and leave to dry.
Fold over top 5cm of the aluminium foil and attach to bottom section of Masai figure squeezing the foil into a cone shape. Cover the aluminium foil cone with masking tape. Set the figures in sitting position.
Wrap the 2 pieces (15cm wire legs) with aluminium foil, wrapping tightly with masking tape to form two legs. Bend the knees slightly.
Mix Powertex Bronze 100ml and Stone Art in equal quantities by volume 1:1 (about 100ml) Mix well to form an air dry clay.
Apply the clay to legs by flattening pieces and covering the masking tape, remember to bend the wire slightly upwards to form a foot. Slit the areas on the foot to form toes and with a matchstick or piece of wire punch lightly on the toe tip to form a toenail. Neaten off the toes. Set aside to dry.
Dip the two larger pieces into Powertex Bronze and wrap the Masai figures covering the taped body with the fabric and place on the boat. Do the same with the other figure and put in position.
Lift the "dress" slightly on the sides of the front figure and place the legs in position. Leave to dry.
Tip: The more folds and pleats the nicer the fabric sculpting.