Home Made Easy – Setting Up Shed
In episode 1 of Home Made Easy, Tanya invites you into her potting shed while Ryan and Elle create their perfect DIY workspace.
Part 1 – The Potting Shed 
Tools of the trade – a fork, spade and edging tool
Hand tools – secateurs, fork, spade, trowel and sheep sheers
Loppers to cut branches
Hand saw
Plastic and metal rake
Plastic spray bottles; a small one for misting indoor plants and a large pump action bottle for spraying weeds etc.
Vermiculite, perfect for seed trays.
A few blocks of Palm Peat or Coconut Husk
Sphagnum moss; for covering the bases of indoor plants.
Plant ties and bamboo stakes (to keep annuals upright!)
Remember: To keep tools in great condition, remember to clean them after each use (by using an anti bacterial agent) and give metal blades a wipe with an oil based lubricant.
Part 2 – Workshop (Ryan)
| | |
| --- | --- |
| Materials | Tools |
| Wooden counter top & middle shelf | Mitre saw |
| Wooden leg poles x4 | Drill & drill bits |
| Bolts, washers, nuts, latch & handle | Pocket hole jig |
| Wood screws | Forstner bit |
Steps:
Determine the size of the area that the workbench will occupy e.g. 1500mm x 600mm. (NB: length will influence height of table)
Cut the counter top and middle shelf to length using the dimensions above.
Cut and secure a rectangular frame to the counter-top using pocket holes and screws.
Cut 4 supporting legs to the appropriate length (half the total length), considering height and length of table as they will fold away.
Using a template, drill holes for bolts to fit through and secure each leg to the rectangular frame.
Add support beams to the middle and bottom of the legs and secure using glue and screws (use long clamp to assist).
Secure middle shelf to the middle braces using a bolt and nut to secure.
Add handle to side of workbench for ease of carrying.
Part 3 – Workshop continued (Elle)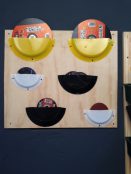 Material List:
A square piece of plywood
Heavy duty plastic plates (in desired sizes)
Short wood screws (13mm)
Heavy Duty scissors
Sand paper (100 grit) & Sanders block
Power drill and driver bit for wood (8mm)
Masonry drill bit and wall plugs (8mm)
Steps:
Cut the plastic plates in half using a pair of scissors.
If the cut edges are sharp, sand them to a smooth finish using a piece of sand paper and sanders block.
Place the cut plastic plates or pie tins on the piece of plywood and secure with wood screws on both sides and another at the bottom of the plate,
Mount the square piece of plywood to the wall using the power drill, masonry drill bit and wall plugs.
Store sanding discs, circular saw blades and abrasive discs that usually get lost in the drawer. 
Material list:
2 x PAR Pine slats (1.2m)
5 x rectangular plastic planter boxes
10 x Medium sized wood screws (3×30)
Power drill and wood drill bit (8mm)
Tape measure, pencil and speed square
Clamps
Steps:
Place the pine slats parallel next to each other, with enough space to accommodate the plastic planter boxes. Make sure the pine slats are straight, evenly spaced and square using the speed square or line up the ends of your work bench, and clamp the pine lengths down.
Using a power drill, drill a screw in each corner of the planter box securing to the pine bars. For a stronger hold, drill 2 x wood screws on either side of the planter box. Do the same for all 5 planter boxes making sure they are evenly spaced out.
Once the ladder formation takes shape- mount to the wall using wall plugs and drilling holes into the top and bottom of the pine slats.