Home Made Easy – Episode 9
In episode 9 of Home Made Easy we make our way in and around the kitchen. From mouth-watering culinary pot recipes, to a mini kitchen makeover…
Gardening
The wonderful thing about herbs is that we all use them, they make for beautiful greenery and we can all grow them, if you stick to the following:
– At least 4 hours of sunlight;
– Don't over water them, as this will kill them. Twice a week is advised.
When planting in a pot, make sure your container has drainage holes.
Add a layer of drainage pebbles/gravel at the bottom of the pot.
Potting soil mix: Potting soil, soaked palm peat (or coconut husk), a handful of organic fertilizer, a handful of bonemeal, and mix together.
Fill up your pot ¾ with the potting soil mix.
Introduce your herb selection to the pot and fill any gaps with potting soil mix.
Water thoroughly, followed by a good watering twice a week.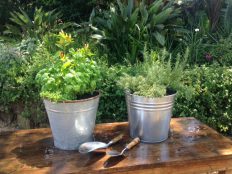 Plants: Rosemary (Tuscan blue), lemon thyme, oreganum
Plants: Basil, chilli (birds eye chilli), oreganum
Part 2 – Makeover
Kitchens have become the heart of the home, and to renovate a kitchen can be a costly affair. If you find yourself on a shoestring budget, there are tips and tricks to help you achieve a more pleasing culinary haven.
Design: As the proposed kitchen is outdated, all white and not in great shape, we will introduce colours that will bring structure to the kitchen, while hiding imperfections. Dark grey paint will hide the busyness that forms part of the bottom counter units, while the dark grey gets repeated in the over-head cabinets. The rest of the wall space will be two tints lighter to keep the kitchen feeling light and fresh. The grey tones selected are known to be DULUX's most neutral tone of grey (neither cold nor warm). Brass cupboard knobs will add a touch of warmth (picking up from the warmer terracotta tiles on the floor) while the unique vinyl stick on tiles will bring interest to the splash back area.
Styling will incorporate natural wood elements (cheese boards), glass (bottles / domes) and greenery (plants) to create a contemporary feel.
Materials:
Sugar Soap
Woodfiller/Painter's Mate acrylic filler
Sand paper (220 Grit)
Dust Masks
Gloves
Rags
Painter's tape
Dulux SuperGrip
Dulux PearlGlo in "Night Jewels 2"
Dulux Luxurious Silk in "Night Jewels 4"
Brushes + Sponge Rollers (various sizes)
Drop Sheets
Brass knobs
1 x pack of Fired Earth Blush Clay Wall Tile Stickers
Steps:
Clear and clean; here one has the opportunity to remove any unwanted objects (including old cupboard handles + fill holes with wood filler/painters mate)
Using SugarSoap, wash down all surfaces to get rid of dust and grease. Let surfaces dry before the next step.
Using an orbital sander and 220grit sandpaper give all relevant surfaces an overall sand. This allows for a more suitable surface for the paint to adhere to.
Once sanded, dust off using a lint-free cloth.
Apply one coat of universal primer using a sponge rolled and brush, this creates an anchor for your final top coat to sit on. Once the primer has cured, give the painted area a light sanding to smooth down any paint irregularities. Wipe away any dust to prepare for painting.
Apply two coats of your washable top-coat paint (remember kitchens are bound to become messy!). Dark grey (Night Jewels 2) on cabinets and surrounds, light grey (Night Jewels 4) on wall area, and water-based enamel (white) on counter tops.
ALWAYS follow instructions on the relevant product you are using… short cuts end in tears!
With all the paint cured, it is time to apply new silicone where needed and style your new kitchen!
An outdated fridge can be an eye-sore, but with the right paint product available, you can take your old fridge from "bleh" to blackboard…
MATERIAL
Dulux Supergrip (if spray paint does not have a built in primer)
Blackboard Paint / Spray paint (built-in primer)
Painter's Tape
Newspaper
220grit sandpaper
STEPS
Start by making sure the surface you are about to paint is grease/oil free. Washing the surface with a general cleaner should take care of any dirt.
Mask out using painters tape and newspaper where you would like to create the black board.
Lightly sand the exposed area that you are going to paint and dust off using a cloth.
Apply a universal primer, and allow to cure before giving it a light sanding (220grit) to smooth down the surface.
Using a roller or a brush, simply apply the recommended amounts of blackboard paint and allow to cure.
If you are opting for a blackboard spray paint, be sure to spray in a well ventilated room our preferably outdoors.
Be sure to let the blackboard paint cure for the indicated time before writing on it with chalk.
Part 3 – DIY
When it comes to a functional kitchen, nothing quite beats an organised one… Being able to hang and display your utensils will add to the pleasure of cooking up a storm.
MATERIAL
1m pine timber board
Drill
Countersink bit
Router with round-over bit
Sandpaper or sander
Decorative knobs
Water-based tinted wood sealant
Sponge roller and paint brush
STEPS
Start by marking out where you would the knobs to sit on the timber board. Finding the middle that runs through the length of the board and marking out equal distances between the knobs is a good way to go about this.
With the pilot holes marked out, simply use a wood drill bit and drill pilot holes. Remember to place the pine board on a piece of scrap wood, to stop the wood from breaking out at the back.
Use a countersink bit to create a space for the bolt that will keep the decorative knob secured, at the back of the timber board.
If you want a routered edge, do this now. Using a round-over bit gives a polished look.
Give the entire board an overall sand – start with a medium grit sandpaper and finish off with a light grit sandpaper.
Apply two coats of water-based tinted wood sealant and leave to dry.
With the sealant dry, attach the decorative knobs. Should the screw pass through the back after secured, use an angle grinder to remove the excess that passes through.
To apply your project to the wall, it is advisable to mark out where you want the screws to pass through – as it might be determined by a tiled wall. Once marked, simply drill a pilot hole through the utensil rack and secure into the wall using wall plug and screws.
Save