Home Made Easy – Episode 4
In episode 4 of Home Made Easy we look at ways of making first impressions that will last…
Part 1 – Gardening
When it comes to gardening and your home's entrance, it is vitally important that we select the right plants, the right look and the right style. Remember that first impressions are all about what you see and what you feel.
Size
When selecting pots to emphasize your front door, be sure to select the correct size pots. Measure the height of your door (or gate) and get the scale right.
Symmetry
To further enhance a feeling of welcoming, create symmetry by placing a pot on either side of the door or repetition of pots leading towards the door.
Width
Be careful not to make your entrance way too narrow. Ideally you want enough space to have your guests walk side by side. This adds to the welcoming feeling you are looking for.
A quick and easy way to cheat height (without having to buy large pots) is to make use of "standard" plants. They add height while also drawing attention to your entrance way.
Plants
– Duranta "Gold Mine" (in standard form)
– Alternanthera "Black Night"
 
 

Materials

Soil Preparation

Potting Soil
Bone meal
Organic Slow Release Fertiliser
Palm Peat
Water-wise crystals or Vermiculite
(to aid in water retention)
UV Resistant Plastic plant pot (with overflow option)

To a bucket of potting soil, simply add a handful or two of organic slow release fertiliser, one or two handfuls of bone meal, a soaked block of palm peat (coconut husk) and water-wise crystals (as per package instruction). Mix well.
Steps:

Fill the relevant pot half way with your potting soil mixture and firm down to get rid of air pockets.
Remove your Duranta "Gold Mine" from its plastic bag and place on top of the soil. Depending on the size of your pot, you can now add the Alternanthera "Black Night", before filling up the pot with your potting soil mixture. Be sure to firm the soil between the plants and allow for the soil to be slightly lower than the lip of the pot. This stops the soil from spilling over during watering.
Important to water your newly planted pots every day for the first week and then every second or third day after that.
When it comes to planting up tall pots, it is best to place them in the desired position before filling them as their weight can often make them difficult to move. As the plants only need the top 30cm or so to grow in, it would be a waste to fill a tall pot with potting soil. Rather fill the bottom of the pot with polystyrene pieces or plastic bottles.
Plants
Aloe cooperi (Grassland aloe)
 

Materials

Steps

Potting soil mix (as per above)
Polystyrene or Plastic bottles
Tall pots
Pebbles (drainage and decorative)

Place your tall pots in their final position and simply add drainage pebbles to the bottom of your pots, followed by pieces of polystyrene (or plastic bottles).
Once the polystyrene pieces have reached the desired height (inside the pot), add your potting soil mixture and firm down before adding the plant.
Place your plant in the pot and firm into place by adding more potting soil mixture.
Finish off with some ornamental pebbles
Part 2 – DIY
By building your own custom designed signage board, your guests will no longer struggle to find your house…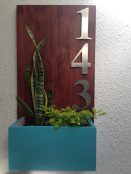 Materials
Laminated Pine Timber backboard (450mm x 900mm)
Laminated Pin Timber box (200mm x 400mm x 200mm)
Wood Sealant (Clear and Tinted)
Wood screws
Wood glue
Wood Filler
Paint
Paint brushes
Power Drill
Set Square
Sander
Signage numbers
Rubber spacers
Steps:
Start by placing out the three sides of your planter box that will fit onto the backboard.

You will have a front and two side pieces.

Mark out where the pilot hole should go by using the actual wood to draw a safety line.
Make use of scrap wood when drilling pilot holes as it stops the wood from breaking out when you drill through it.
Assemble the three sides of the plant box by using wood glue and screws.
With the box assembled, fill the holes where the screw heads are with wood filler.
While the wood filler is drying, mark out where the box will sit on the backboard.
Once you have marked out where the pilot holes will go where the box sits on the backboard, you can continue to drill the pilot holes in the back board and stain the backboard according to your preference.
Remember that it is always advisable to give your wooden projects a light sanding to ensure a smooth professional looking finish.
We used a water-based tinted stain to protect the wood while giving it some colour. Apply the recommended amount of coats (as per packaging) and set aside to dry.
Once the wood filler is dry on the box part of our project, simply sand to a smooth finish, prime with a wood primer and once the wood primer has dried, paint in a colour of your choice.
Once the paint is dried on the box part, you might want to consider treating it with a clear sealant. This is dependent on the paint that you used. An enamel paint does not need to be sealed, but because we used a PVA paint, we want to give the painted section extra protection against the elements.
With the sealant and paint dried, you can secure the box onto the back board using screws.
Attach the numbers using the rubber spacers (to elevate the numbers for a polished effect) and secure them to the back board using screws.
Mount the signage board to the wall using four screws (one in each corner) or two keyhole hooks (at the top of the board).
Part 3 – Décor
Saying welcome to guests can start with your entrance way. Having a place to hang a scarf or place a bag can make your guests feel at home as they walk through your front door…
To have a designated area where you and yours can hang hats, scarves or bags is a great way to keep an entrance way clutter free…
Materials
Paint brush
Varnish / Stain / Paint
Hanging Hooks
Wood (Safety Backing Board works well)
D-Rings
Sandpaper
Measuring Tape
Screwdriver
Pencil
Steps:
Start by sanding the wooden board to a smooth finish. Depending on the wood, start with a medium grit sandpaper and finish off with a fine grit sandpaper.
With the wood smooth, you can now decide what you want your project to look like. Elle used a water-based interior varnish with a teak tint, but you can explore paint options or different wood stains.
Once the backing board is dry (refer to the relevant product you have applied to ensure paint or varnish has cured for the recommended time), you can measure out where the hanging hooks will sit on the board. Make use of a measuring tape to get accuracy before marking with a pencil where the hooks will sit.
Using a screwdriver and the supplied hanging hook screws, simply screw the hooks into place.
To secure the hanging rack onto the wall, attach D-rings to the back of the hanging rack. They are designed to simply hook onto a nail in the wall.
Personalising your entrance , is a great way to welcome friends and family. A photo board allows you to display your favourite photos.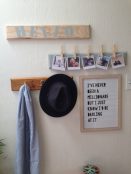 Materials
Chalk Paint
Paint Brush
Clear Adhesive
Clothing Pegs
Backing board
Photographs
Measuring Tape
Pencil
Steps:
Paint the backing board with a layer of chalk paint. As this is a paint effect, you can decide on the amount of coats that you want to apply.
Once the chalk paint is dry, mark out where you would like the wooden clothing pegs to sit. Symmetry results in a neat and professional look.
Use clear adhesive to secure the wooden clothing pegs to the painted back board.
Once the adhesive has dried and the wooden pegs are secured, you can either add D-rings to hang the photo board on the wall, or simply use double sided tape, as the project doesn't have to carry weight.
Now to add your photos!
Words are a sure way to make your guest feel welcome. Think of words like "Hello", "Haai", "Welcome", etc.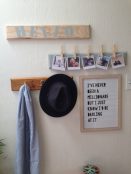 Materials
Wooden Back Board
Chalk Paint
Paint Brush
Stencil
Steps:
Decide on what word you would like to display and layout the stencil letters accordingly.
Keeping the letters firmly in place, add a light coat of paint (to prevent the paint from seeping underneath the stencil).
Once you are happy with the paint coverage, remove the relevant stencil and move on to the next letter.
Let the paint dry and attach to a wall using double sided tape or D-rings.