Home Made Easy – Episode 1 – Being water wise
In episode one we visit the theme of being water-wise in and around the home. In times of drought, we need to think ahead by changing the way we consume water.
Part 1 – Gardening
When it comes to being water-wise in the garden there is a long list of things you can do to make sure that very little water goes to waste.
Only water your garden after sunset or when absolutely necessary.
Cover your pool when not in use to cut down on water evaporation.
Limit the amount of ornamental water features you have in your garden.
Mulch your garden beds to minimise water run-off and to reduce evaporation.
Container gardening can help you control your more delicate plants as they can be watered in a controlled fashion by hand.
Zone your garden by planting plants in groups that require the same watering needs.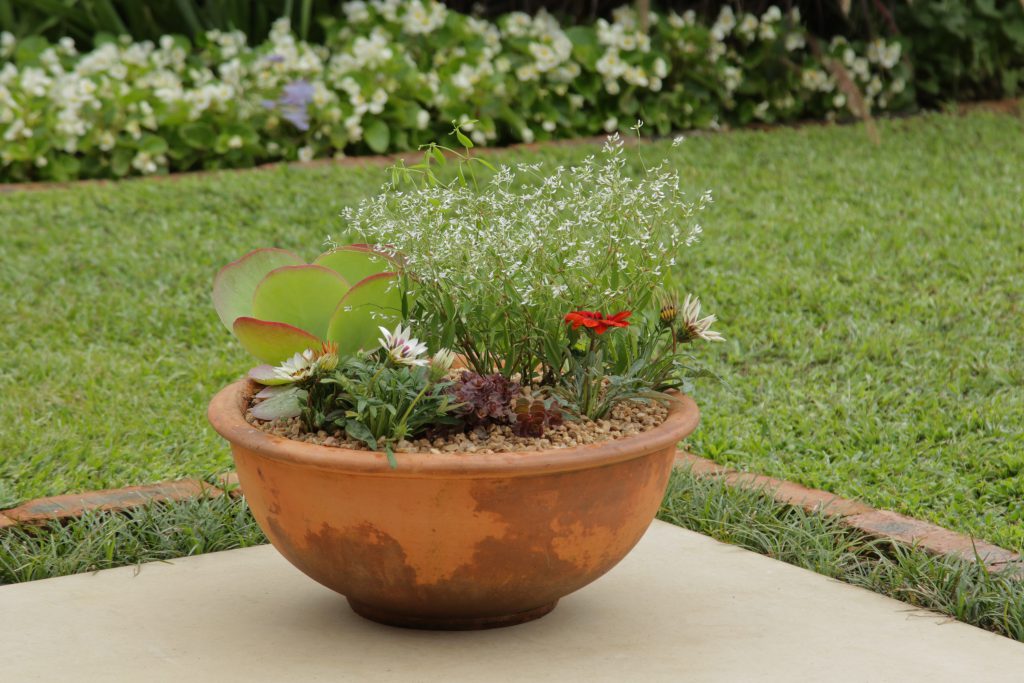 Plants

Materials

Kalanchoe (succulent)
Euphorbia Diamond Frost
Gazanias
Sedum "red carpet"

Potting soil
Palm Peat
Vermiculite
Bone meal (or Superphosphate if your dogs tend to dig)
Slow release fertilizer pellets
Drainage pebbles
Mulch

Steps

Step 1: Soak half a block of palm peat in water for at least 30mins (use a full block for large pots). Remember this helps with water retention and stops the soil from drying out.
Step 2: Mix enough potting soil to fill your container, with soaked palm peat, a cup of vermiculite, a cup of slow release fertilizer, and a cup of bone meal (which helps with root development).
Step 3: Now that your soil is prepped, place a layer of stones at the bottom of your pot to aid with drainage.
Step 4: Fill the pot 2/3 of the way with your soil mixture and firm down to get rid of any air pockets.
Step 5: Start placing your plants, making sure you orientate them to show their best angles. Working in a triangular form, brings interest to the pot.
Step 6: Secure plants by filling the pot up with the rest of your potting soil mixture. Use the back end of a hand tool to carefully firm the soil down.
Step 7: To reduce water evaporation from the soil, add a layer of mulch as a final step. You can use gravel, bark or even straw.
Part 2 – DIY
In and around the home, there is a lot you can do to save water.
Take a quick shower instead of a bath.
Turn off taps while brushing teeth or washing your hair.
Flush the toilet only when it is absolutely necessary.
Sweep your driveway instead of hosing it clean.
Wash full loads of laundry, instead of only a few items.
Fix all leaking taps and toilets as soon as possible.
If you don't have dual-flush toilet mechanisms, place a brick or filled water bottle in the toilet's reservoir to displace the water.
Invest in water-wise shower heads to reduce the amount of water per minute.
Turn off the main water supply before starting work on any tap.
Assess which part of the tap is leaking.
Using a shifting spanner, open the tap to reveal the mechanisms (or the plunger).
Remove the valve that houses the worn out rubber washer. At the bottom of the valve you will see the rubber washer, that is secured with a nut.
Replace the worn out washer by removing the nut that keeps it in place, and removing the worn out washer before replacing it with a new washer.
Simply trace your steps back, by placing the tap mechanism (or plunger) back into the tap and secure the main bolt by using a shifting spanner.
Before turning the main water back on, ensure the tap is closed to avoid water wastage when the main water flow reaches the fixed tap.
Part 3 – Décor
When it comes to metallics in an interior, the range of colours are sure to bring a sense of glamour to almost any interior.  If you are looking for a touch of warmth, then gold, brass and copper is for you. While silver can bring a hint of cool contemporary style to a space.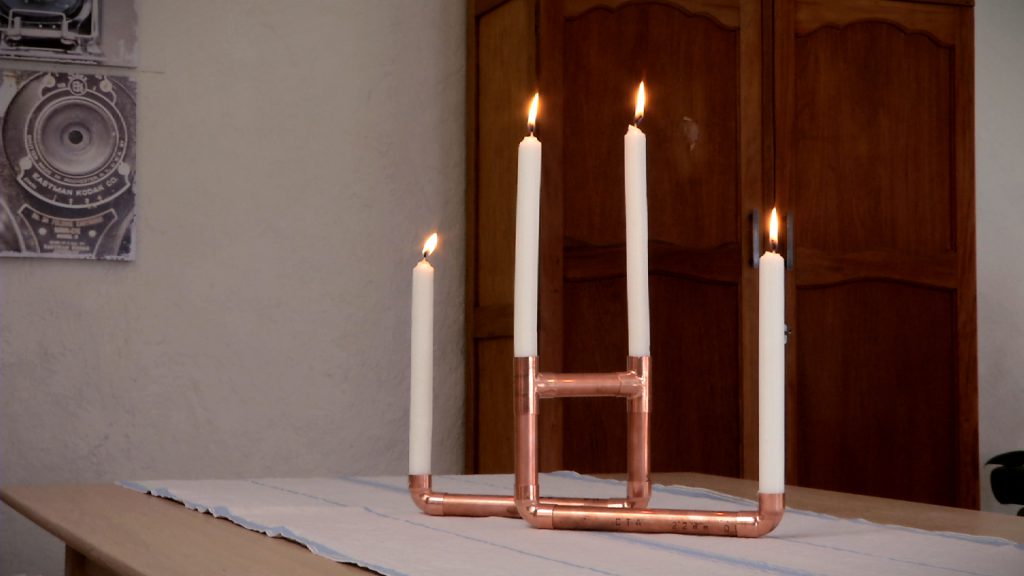 Materials:

Steps:

2 x 22mm (w) copper pipe cut to 200mm
3 x 22mm (w) copper pipe cut to 100mm
2 x 22mm copper T-joints
4 x 22mm copper elbows
Clear adhesive
Find grit sandpaper (for metal surfaces)
Candles
Pipe Cutter

Step 1:  Start by cutting the 22mm copper pipe to the desired lengths. Remember, you can design your copper candelabrum to suit your custom needs.
Step 2: Once all the pieces have been cut to size, simply start building your design to get a clearer idea of how you final product will look. This also allows you to check your measurements to make sure your candelabrum stands level.
Step 3: Using the clear adhesive, secure all the horizontal joints, as the vertical joints allow for movement to change the design of your candelabrum.
Step 4: Once the adhesive has dried, you can add the candles to your candelabrum and enjoy the beauty of the warm copper colours.
Metallic Paint DIYs:
If you are looking to add a bit of sparkle to some everyday items, then a lick of paint could be the solution to your décor scheme.
Material:

Fired Earth Brushed Metal paint in Foxy
Rustoleum Spray paint in Copper
Paint brush
Masking Tape
Newspaper
Drop sheet
Wooden bowl
Concrete Vase
Steps
Step 1: To paint the wooden bowls, simply mask off the sections that you don't want to paint, leaving the part that you do want to paint exposed.
Step 2: Seeing as you'll be creating a purely visual paint effect for decorative purposes, you can paint the water-based metallic paint straight onto the wooden bowls. For any application where wear and tear may damage the final product it is advisable to use a suitable wood primer before applying the top coat.
Step 3: Two coats of paint ensures proper coverage, just be sure to allow enough drying time between coats. It is always adviseable to read the instructions on the back of the paint product, as different paints have different technicalities.
Step 4: Once the second coat of paint has dried, simply remove the masking tape to reveal the final product. Enjoy your glamorous new wooden bowls!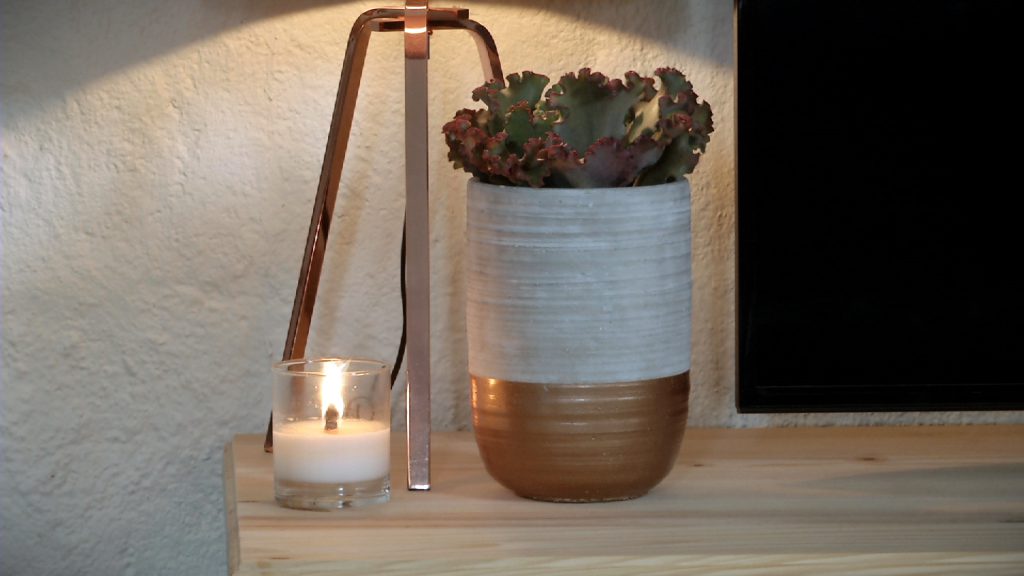 To spray paint the cement vase, simply decide which section of the vase you want painted and mark off the rest by using masking tape and newspaper.
Step 1: Following the instructions on the relevant spray paint, it is advisable to keep the spray bottle at least 30cm away from the vase when spraying, and to apply a few light coats to ensure a smooth and tear-free finish.
Step 2: Once the spray paint has dried, simply remove the masking tape and newspaper to reveal your striking new vase.
**Remember to always paint and spray-paint in a well ventilated room.
Helpful Articles:
Be Ecowise – Save Water Today! (https://builders.co.za/all-waterwise-content)
BUILDERS Ecowise Booklet (https://builders.co.za/ecowise-booklet-zmag)