How To Make a Cubed Coffee Table
For this project you're going to build 4 pine boxes that will create a large coffee table.
Material / ingredients required
Shopping List
Plywood 18mm thick cut to following sizes:
317mm x 355mm – 8 pieces
355mm x 355mm – 8 pieces
1 piece of 6mm thick glass – 710mm x 710mm (edges
35mm chipboard screws
Wood glue
Stain & Varnish
5 wheels or alternatively 5 door stops
Clear adhesive bumpers
Tool List
Bosch PSB 14, 4 Li 2 cordless drill/driver
Bosch Drill bit accessory set
Bosch PEX 220A sander
Bosch PSM 160A sander
Bosch PSR 10,8 Li screwdriver
Step 1: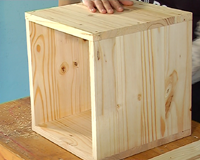 Attach two of the shorter pieces to the opposite edges of one of the larger pieces, and then attach the second larger piece to the 2 upright shorter pieces. You should have a square cube that is open on 2 ends.
Drill pilot holes first before putting your screws in. Pilot holes should be the same size or slightly smaller than the screw, in this case 4mm.
Repeat this process until you have four boxes.
Step 2: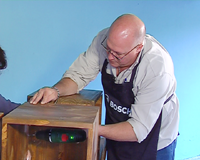 Sand all our boxes both inside and out. Start with 80 grit sandpaper, and then move on to 120 grit sandpaper.
Step 3: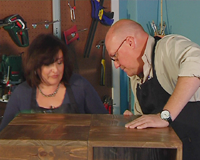 Stain or varnish your four boxes. Allow to dry and then sand them again using very fine sandpaper – 220 grit. If you stain your wood, remember to cover with a clear topcoat to protect the wood.
Step 4: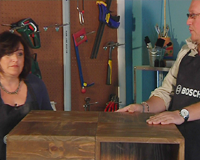 Place your four cubes next to each other to create one large cube. On each side have one open end and one closed end. Screw two of the cubes together, then screw the other two together, then screw the two resulting rectangular pieces together.
Step 5: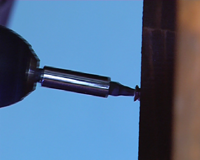 Screw the wheels onto the bottom of the table. One in the middle and one at each corner slightly recessed.
Step 6: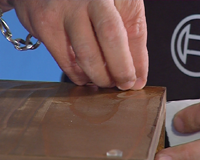 Stick a few of the clear plastic bumpers onto the top of the table and place the glass on top of that.