The Gardener
Time Schedule
Not currently on Air
Overview
If you love gardening, but are looking for ways to take it to the next level, then join Tanya Visser for a brand new season of The Gardener. Loaded with spades full of new ideas, Tanya shares fun DIY projects, practical tips and even some of her favourite recipes. In her Potting Shed is where you'll find out more about tools and gadgets that will fuel your passion…

Episode 1
Nasturtiums…. Cute to look at and a magnet for aphids, but did you ever think of serving them as a delicacy to your guests?? In this weeks episode of The Gardener, Tanya shares some fabulous ways for you to enjoy nasturtiums at home. We find inspiration in a modern food garden and plant up some eye catching baskets…
Special Thanks:
Recipes:
Nasturtium Butter
Chop up a couple of Nasturtium flowers and mix with butter. Delicious on toast.
Stuffed Nasturtium flowers
Mix ½ cup cream cheese, ½ teaspoon crushed garlic, salt and pepper, chopped chives, zest of 1 lemon
Spoon into the flowers and close up the petals.
Episode 2
Have you ever fallen head over heels in love… with a pot recipe?! Be sure to join Tanya Visser in this week's episode of The Gardener as she shares three of her favourite pot plant combinations… She'll also show you step by step how to create a terrarium… and lettuce for breakfast?! You heard right…
Lettuce Recipes:
Quick and tasty salads with lettuce and herbs
Lettuce, roasted butternut, pumpkin seeds, feta
Crispy fried sage would go well with this – throw the pumpkin seeds in a pan with a little olive oil, add the sage leaves and crisp up, add violas for colour – great contrast with the orange of the butternut.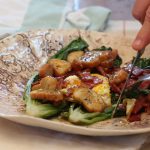 Breakfast Caesar salad
Cos lettuce fried in a pan, fried egg, Bacon bits, croutons, dressing. Parsley would go well with this one.
Dressing:
1 egg yolk
2 anchovies (optional)
½ teaspoon Worcestershire sauce
Squeeze of lemon juice
¾ cups vegetable oil or mild olive oil
Salt and pepper
Place the ingredients in a food processor and blitz adding the oil in a thin stream like you would do for mayonnaise. Season with salt and pepper.
Episode 3
Zantedeschia… Arum Lily… Varkoor… Call it what you like, but this is a plant for every garden… Join Tanya Visser in this week's episode of The Gardener as she shares a plant combination from her garden that includes some old favourites… We make pretty through recycling and take chinese greens into the kitchen to make the most delicious ramen…
Ramen bowl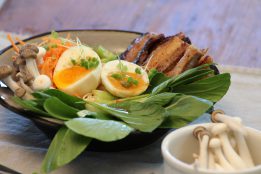 500g pork rashers for 4 bowls
Rice or any other noodles, cooked in boiling salted water for 3 – 4 minutes
5-minute boiled eggs, peeled and halved
Spring onions, chopped
Mushrooms (we used shimeji mushrooms, but any type will do)
Bok choy, halved
Carrots, grated
Marinade
3 tablespoons soy sauce
2 tablespoons black Chinese vinegar or apple cider vinegar
1 tablespoon fish sauce
1 tablespoon hot chilli sauce
Juice of 1 lemon
1 teaspoon sugar or honey
Stock
1 cup vegetable or chicken stock
2 tablespoons dashi stock powder (optional – if you can find it, dashi stock powder makes a richer stock)
1 tablespoon fish sauce
1 tablespoon soy sauce
1 teaspoon grated fresh ginger
2 cloves garlic, finely grated
1 teaspoon chilli sauce
Microgreens to serve (optional)
Method 
Mix all the ingredients for the marinade and cover the pork rashers. Marinate overnight or for at least an hour. Grill the rashers on a high heat until crispy, then cut into pieces.
For the stock, add all the ingredients to a saucepan and cook until well combined.
Prepare all the vegetables and make up the bowls using the noodles as the centre base and filling in around the sides. Top with the pork rashers and microgreens and pour over the stock.
Episode 4
Ever felt like you need a little pick me up – well when it comes to our plants, they often need a little help to keep them upright and proud – join Tanya Visser for this week's episode of The Gardener where she'll show you step by step how to stake your more delicate plants… We visit a tiny but eye catching show garden and praise thyme for its flavour in the kitchen…
Special thanks:
Thyme Soup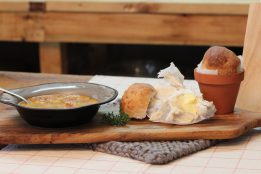 Ingredients
1 Can Butter beans
Chorizo sausage
1L Stock (chicken or veg stock)
Hand full of Thyme
half an Onion, chopped
Steps:
Start by chopping the onion and frying in pot with some olive oil
Add the chopped chorizo
Add 1L of stock, along with thyme and butter beans
Let cook for 10-15 minutes before serving.
Season to taste with salt and pepper.
Quick bread in a terracotta pot
For a quick and easy bread serving on the side, use store bought dough.
Roll a small ball of dough and place on a piece of baking paper.
Place the "parcel" of dough inside a washed terracotta pot and bake at 180degrees until golden brown
Episode 5
Bug hotels are all the rage – inviting the good guys into your garden… In this week's episode of The Gardener, Tanya will be showing you how to build your own… Then she'll share her  grassland garden with you… and we enjoy celery in the kitchen…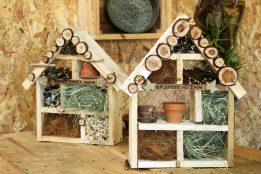 Recipes:
Celery salt
For quick and easy drying, place the celery leaves between pieces of kitchen paper and microwave on high for 2 minutes. Crush together with ½ teaspoon salt.
Bloody Mary Notes
There is no clear origins of how the cocktail Bloody Mary came about. Bartenders have claimed to invented it, or it could be a simple mispronunciation of a Russian name, and perhaps it's even related to Britain's infamous Mary Tudor, Queen of England and Ireland in the 16th Century. She soon became known as Bloody Mary for her dispatching of opponents by means of beheadings, burnings at the stake, and executions. Maybe it's time for a Virgin Mary which is also known as a Bloody Shame by loads of Australians.
Bloody Mary
Juice of 1 lemon
Dash Tabasco
Dash Worcerstershire sauce
Tomato juice
Tot of vodka
Celery salt
Stick of celery
Ice
Stuffed celery snack platter
Celery sticks
½ cup bacon bits
½ cup walnuts, crushed
1 tub cream cheese
Dash of Tabasco
Dash Worcestershire sauce
½ packet white onion soup powder (sifted – discard the bits)
Celery salt
Mix together the cream cheese, onion soup powder, Worcestershire sauce and Tabasco. It is best to leave this to sit for at least an hour before using. Spoon into celery stalk segments and sprinkle with bacon, walnut bits and celery salt.
Episode 6
In this episode of The Gardener, Tanya plants up a pot that is sure to make a statement. Rubber trees are back in vogue and we look at why you should consider it as an indoor plant. A sure way to take your salsa to the next level is by incorporating tree tomatoes as the secret ingredient!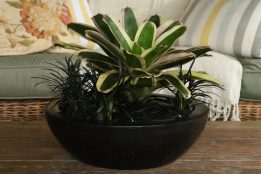 Recipes:
TREE TOMATOES
Also called Tamarillos – pronounced tamarios
Come from South America
Hot salsa goes with potatoes, fish and meat, bread, rice and beans, just about anything
You can eat the seeds, but the skin can be tough and bitter
To peel, add them to a pot of boiling water, turn off the heat and leave for 3-4 minutes.
Can also be eaten fresh in a fruit salad, cut in half and scoop out the flesh and seeds from the skin
Make chutney or BBQ sauce with tree tomatoes.
Recipe:
Tree tomato salsa
4-5 tree tomatoes
1 onion, quartered
Sprinkle of sugar
Olive oil
2 chillies
Fresh coriander, chopped
Juice of ½ lemon
Salt and pepper
Method
Cut a cross in the top of each fruit. Place in a bowl and add boiling water. Let it sit for a few minutes then peel the skins off. Chop into a bowl. You can eat the seeds, but the skin can be bitter.
Chop the onion finely, add a sprinkle of sugar, chopped coriander, a splash of olive oil, juice of lemon and season with salt and pepper. Mix well and serve.
Serve with chips, toasted bread, fish, meat, rice and beans.
Episode 7
This week on The Gardener, Tanya puts a plastic bottle to good use by making a bird feeder. She shares her must have tools for successful seed sowing and visits a show garden with different rooms that will speak to the whole family. If you love samoosas and garden mint, then this week's recipe will tantalise your taste buds.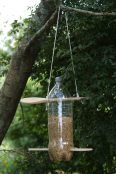 Special thanks:
Garden World – //www.gardenworld.co.za/designer-gardens-designer-garden-15/
Recipes:
Mint and coriander samoosas with pineapple chilli dipping sauce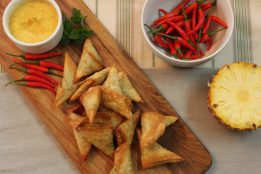 Ingredients
Samoosa pastry – called "pur" (ready-made)
400g mined beef
1 cup mint leaves
1 cup coriander
2 cloves garlic (pre crushed)
2cm of ginger
Chillies
Sunflower oil for deep frying
Cornflour and water to stick the pastry
Pineapple
More chillies
Method
Start by adding mince to a frying pan and cook out the juices. You do not want a wet mixture.
Blend together; handful of mint, handful of coriander, 1t garlic, 1t ginger, salt and a chopped chilli.
Add the blended mint mixture to the pan with your dry mince.
Lay out the PUR covered with a damp cloth.
Create samoosa parcel by placing a spoon of the mince mixture on one corner, and folding the triangle samoosa. Glue the end down using cornflower and water mixture.
Deep fry the samoosas until golden brown.
To make the pineapple and chilli dipping sauce, simply blits a cup of pineapple cubes with one chilli until a liquid paste forms.
Episode 8
In this week's episode of The Gardener, Tanya plants up a pot within a pot, looks at pathways and garden wall options, and shows you why Kale is a must have in the kitchen.
Recipes:
Deep fried kale, brinjal and feta salad
Ingredients
Grilled aubergine
Feta
Salt and pepper
Method
Start by cutting the aubergines into discs and grilling them on a griddle pan.
Cut the washed kale leaves from their stalks and fry in a bit of olive oil (be careful of the splatter if there's water and oil mixing)
Layer grilled aubergine and fried kale and top with feta.
Episode 9
In this week's episode of The Gardener, Tanya creates a decorative mosaic bird bath; shares her must have gardening tools; and harvests chillies to make Muzavaroo.
Recipes:
Mazavaroo Recipe
This well-loved Mauritian hot chilli sauce is traditionally made with chillies, ginger, garlic, preserved lemons and spices and Mauritians will eat it with everything from curries and breads to fruits. It goes well with braaied meats, seafood and even as a taster with bread and cheese. This version is a little different from the traditional, but equally as tasty.
Ingredients
200g Green Birds Eye chillies
50g onion
1 garlic clove
1 teaspoon ginger
1 teaspoon salt
2 tablespoons lemon juice
2 tablespoons vegetable oil
Method
Remove the seeds from the chillies.
Using gloves will help to avoid those nasty eye burns should you touch near your eyes.
Blend all the ingredients and then simmer in a saucepan to reduce the liquid to a thick paste.
Pour the mixture into sterilized jars and seal. Refrigerate after opening and use within a month.
Episode 10
In this week's episode of The Gardener, Tanya adorns a piece of driftwood with airplants; visits a water-wise show garden and shares a mouth-watering mustard leaf dip to go with braai tjops.
Recipes:
Mustard leaves yoghurt sauce for lamb chops
Ingredients
Chopped mustard leaves
Yoghurt
Lemon juice
Salt and pepper
Serve with braai'd lamb tjops
Method
Make vinaigrette with mustard leaves, vinegar, olive oil, salt and pepper, for a cucumber salad with feta, chick peas, baby tomatoes and herbs from the garden.
Episode 11
In this week's episode of The Gardener, Tanya shows you a cost effective way to make your own pots; look at various container options; takes a walk through her shaded fern garden; and makes a delectable gooseberry trifle.
Gooseberries
Cape Gooseberry trifle
400g fresh Cape gooseberries
4 tablespoons sugar
1 tablespoon custard powder
½ cup water
1 readymade jam Swiss roll
Dash sherry
250 ml cream, whipped
100g castor sugar
500g cream cheese
1 lemon, juiced
Dash of vanilla extract
Place the gooseberries in a saucepan with the sugar and water and heat. Mix the custard powder with a little water and stir into the gooseberries when they are just soft. Stir gently until thickened and set aside to cool. Cut the Swiss roll into slices and line a serving dish. Sprinkle with a little sherry (optional). Beat together the cream cheese and the castor sugar, then stir in the whipped cream and vanilla. Pour over the Swiss roll and top with the gooseberry mixture. Refrigerate until ready to serve. Serves 8-10.
Episode 12
In this week's episode of The Gardener, Tanya finds calmness in a pot mobile DIY; she shares her must have potting mix essentials; and puts kitchen scraps to good use by demystifying Bokashi.
Episode 13
In this week's episode of The Gardener, Tanya shares her take on lawn games to make the most of your garden; visits a show garden with a weird and wonderful planted pod; and puts lemons to good use by making limoncello.
Limoncello
5 cups
6 lemons (organic lemons) If not, soak in water for half an hour before zesting.
1 lime
1 bottle vodka
1 cup water
1 cup sugar
Remove the lemon peel with a sharp peeler, remove any pith. Place in a large sealable jar and cover with half the vodka. Leave to mellow for 2 weeks in a dark place.
Combine sugar and water in a saucepan and bring to the boil and stir until the sugar has dissolved. Cool to room temperature – do not put it in while hot or the end result will be cloudy. Use a fine sieve or coffee filter and strain the vodka and peels mixture, mix in the rest of the vodka and the syrup together and pour into bottles. Store for 10 days before drinking. For straight drinking, store in the freezer.
Use for ice cream, making trifle, with fresh fruit or add to lemonade for a cocktail.

Click here for the previous season