Wood Work
Ribbon Box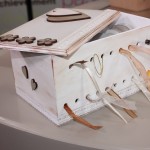 By Ros Allman
Scrappers Solutions
 072 731 5503
Requirements
Wooden ribbon box
Paint brush
Ink eye (inking pad)
Sponge block
Blending solution
Masking tape
½ pearls (flat on one side)
Decorative lace tape
Wooden embellishments
Spray Craft Varnish
Instructions
Step 1:
Paint the box white and the lid an off white colour like mushroom.
Step 2:
Apply some ink to the lid with an ink eyepad. Blend the ink using blending solution & spongeblock.
Step 3:
Apply the paper lace, remember to keep the backing strip to use as a stencil for the base of the box.
Step 4:
Stick a piece of masking tape just above the width of the "lace" strip on the base of the box
Secure the lace stencil with masking tape at either end; place it at the base of the box, using the brown ink eye sponge the ink onto the stencil.
Step 5:
Remove the masking tape and lace backing strip & touch up the base as you did the lid to age it.
Step 6:
To finish off your box, add the wooden embellishments, buttons to the lid and sides of the box & apply the ½ pearls onto the lace strip on the lid. Spray on the varnish and let it dry.
Coffee Station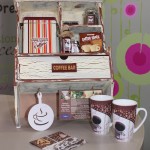 Coffee Station
By Ros Allman
Scrappers Solutions
 072 731 5503
Requirements
Wooden coffee bar unit
Coffee Bar sign
Heritage acrylic paint. We used Honey Suckle
Heritage Kwik Crack
Paint brushes
Sand paper (fine grit)
Spray Craft Varnish
Glue
Instructions
Pour some paint out onto a plate and dilute the paint by 20% with water. Paint the coffee station with one coat of diluted paint, using a sponge applicator brush. Apply a second coat of paint, this time undiluted, and let it dry.
Apply an even coat of Kwik Crack over the painted surface. Be careful not to touch it as this will make a smudge. Wait for it to dry completely.  Kwik Crack will only work when applied between two layers of acrylic paint.
You need to dilute paint again for this step by adding 10-20% water.  Load the brushwith paintand paint one layer with a firm smooth movement. Don't go over an area you have already done again, you only get one chance to make it right.
For and aged or antique lookuse sand paper to sand away some of the white paint to reveal the wood underneath.
To seal off your coffee station spray it with a clear varnish sealer like Seal Skin from Heritage paints. 
Guest Details:
Ros Allman of Scrappers
Solutions: 072 731 5503