Wall Talk Stickers
Project 1
Mood Board
By Trudie Ayers
Wall Talk
Requirements
Blocked canvas – primed
Acrylic paints
Paint brushes
Wall Talk Letters
Water based sealer
Instructions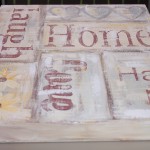 Step 1:

Paint your canvas in a dark, contrasting colour.

Step 2:

Place the stickers on the canvas in any position that you like.

Step 3:

Start painting blocks of colour around the stickers, in a lighter or contrasting shade to the background. Fill in the empty spaces between the blocks by painting your own embellishments e.g. hearts or flowers. Vary the colours of the blocks but do not cover the background colour completely.

Step 4:

Layer the paint colours over the stickersin such a way that you create depth and texture –while still allowingthe different coloursto showthrough. When you are satisfied with the colour of the blocks –peel the stickersoff.

Step 5:

Using a dry brush technique, brush some lighter colour over the words and the blocks to soften the edges and blur the words somewhat.

Step 6:

When the paint is dry – seal your painting with a water based sealer to protect and give it some shine.
Project 2
Decorating Glass Bottles
By Trudie Ayers
Wall Talk
Requirements
Clear glass bottles, vases or jars
Wall Talk stickers
Instructions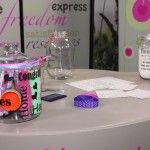 Step 1:

Clean your bottle to remove dust and oils.

Step 2:

Stick your stickers onto the bottle. You can place them in any direction you like, horizontal or vertical or you can even cut the words apart and apply them in two rows.

Tip:
Rub the back of the sticker before you apply it to the bottle this will ensure it sticks to the surface.

Step 3:

Pull the application tape off ensuring that your sticker is properly adhered to the bottle.
Your bottle is now complete and ready to be used.
Guest Details
Trudie Ayers of Wall Talk (082 823 3503)