Consumed
Time Schedule
Not currently on Air
Overview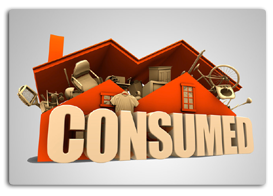 Overwhelmed families drowning in their possessions undertake an extreme home experiment. They are challenged to survive for 30 days with only the bare essentials, a few personal items and 10 things to share.
With their worldly possessions temporarily gone, they have no choice but to confront their relationships with each other as well as the effect of clutter in their lives. At the end of the experiment the way they see their material possessions, their homes, and each other is through a different lens. But can families who have fallen prey to the allure of a consumer society and who in turn are consumed by their environment, change?
Episode 1 – The Welches
Bridget and Byron Welch are raising a young family with traditional values. They home-school their three children, have a home church, but are absolutely drowning in their stuff. Bridget is overwhelmed with guilt, believing that she alone is to blame for the chaotic state of their lives. But with Jill's help, Bridget not only learns that she has the strength and skills to turn her family's life around but to become the person that she always wanted to be.
Episode 2 – The Fowlers
Joan Fowler is a long-suffering working mother surrounded by men. For economic reasons, her three adult sons are still at home with her and her husband Ron. Together, they have accumulated five lifetimes of stuff that threatens to drown them. Rather than cause friction, Joan has decided that to do nothing would be better than fight. Jill disagrees, and she shows Joan how to "crack the whip" and demonstrates that the only way for them to survive to is to work together as a team.
Episode 3 – The Sandhus
Judy Sandhu is a self-proclaimed "queen of recycling" – accumulating things to be put to a better use, which is to her friends and family another way of saying "pack rat". She lives in a tiny house that is bursting at the seams, with her two daughters aged 13 and and 11. Judy herself was raised in a large, protective family that has left her ill equipped to be a role model for her two girls. Jessica, who is thirteen is really the adult; Mikayla who is eleven is the "baby" and Judy, as Jill would say is really the "teenager". Jill decides that it's time for Judy to grow up and to take the responsibility of being mom.
Episode 4 – The Hoffers
Debby Hoffer has never met a pair of shoes or a purse that she did not like. Her passion for material goods makes her small townhouse that she shares with her three daughters look more like a warehouse than a home. Her house is so packed to the brim that her oldest daughter has nowhere of her own to sleep. Jill's challenge for Debbie is for her to recognize that mere things do not represent security –it's her relationship with her daughters that has real value.