Kids Rocker Chair
Instead of building a normal rocking chair, Peter and Annalien build a stylish rocker the right size for kids. Annalien shows you how to remove crayon marks from walls and Peter builds an oversized safety pin to be used as a towel rack. So be inspired to build your own rocker and watch step-by-step to see how they Get it Done!
You will need:
Tools
Material list
PCM compound sliding Mitre Saw
Ply wood 18mm 
PST 18 Jigsaw
Sides 1200 x 1000mm – 1 piece
POF 1400 Router plus round over bit
Foot pieces 100 x 250mm – 2 pieces

(will cut from off cuts)

PSR 10.8 Cordless drill Driver
Stop ends 70 x 400mm – 2 pieces

(will cut from off cuts)

PSR 18 Cordless Drill Driver
seat slats 50 x 300mm – 2 pieces

(will cut from off cuts)

PEX 220 Eccentric/Random Orbital sander
Handle bar 40mm round x 500 mm – 1 piece (use wooden curtain rod)
PTK 14 Electric Tacker 
furniture T nut – 6 pieces (countersink bolt – length 60 mm)       
PFS 5000 spray gun
Webbing black 50mm – 8 mtrs 
 
Safety pin hanger head – we can cut out from off cuts 
 
Flexible plumbing 16mm tube – 2 mtrs (BWH sells white one for R44 per 2mtr length)
 
4 x 40mm screws
 
Wood glue
 
clear varnish water based – 5 ltr (we then have enough for further shoots)
 
Cleaning crayon off the walls material ???
Follow these steps
Draw out a template on paper based on the size of the child you would like to make the rocker for – base the size on an existing bicycle
Trace around the template onto some plywood
Cut out the two sides that were based on your template
Mark off where each foot plate goes – where the childs feet will rest
Mark out where stoppers go – this is to prevent the rocker from tipping forward or backwards too much.
Router all edges
Drill out holes for handle bars on the top
Assemble sides, stoppers, and foot plate
Attach handle (curtain rod) by sliding it through the holes and use screws to attach
Sand and varnish
Decorate if need be
Do the seat strapping with webbing by doing the vertical strips first and then the horizontal strips

Safety Pin hanger

Cut out shape for safety pin head
Drill holes for pipe
Router edges
Sand and varnish/paint
Bend and attach pipe
Get the layout plans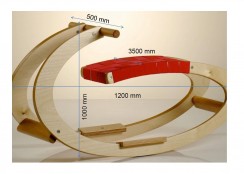 Some more pictures