Buttermilk Fried Chicken
In this episode, Donna teaches us her tricks for the tastiest fried chicken you'll ever eat, along with prawn dumplings so delicate and flavourful they'll have your mouth watering, and a delicious recipe for vanilla-roasted summer fruits perfect for any occasion.
Serves 4–6
Ingredients
2 tablespoons sweet paprika
1 tablespoon fennel seeds, crushed
8 x 125g chicken thigh fillets, trimmed
2 cups (500ml) buttermilk
vegetable oil, for deep-frying
2 cups (300g) plain (all-purpose) flour
1 tablespoon baking powder
2 teaspoons sea salt flakes, plus extra to serve
½ teaspoon cracked black pepper
Method
Place the paprika and fennel seeds in a large bowl and mix to combine. Add the chicken and toss to coat. Add the buttermilk, mix to combine and refrigerate for 30 minutes.
Fill a large saucepan two-thirds full with oil and place over medium heat until the temperature reaches 180°C (350°F) on a deep-frying thermometer.
While the oil is heating, place the flour, baking powder, salt and pepper on a large tray and toss to combine.
Remove the chicken from the buttermilk mixture, allowing any excess liquid to drip off. Place on the tray with the flour mixture and toss to coat evenly.
Deep-fry the chicken, in batches, for 5–6 minutes or until crisp, golden and cooked through. Drain on paper towel and keep warm. Sprinkle with extra salt to serve.
TIPS
You can also combine the flour mixture in a large zip-lock plastic bag. Seal and shake to coat the chicken. To keep the chicken warm before serving, place it on a baking tray in an oven preheated to 140°C (275°F).
VARIATIONS
Crispy Chicken Burgers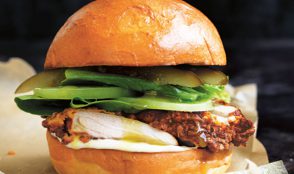 Ingredients
½ cup (150g) aioli
1 x quantity buttermilk fried chicken (see basic recipe), sliced
16 baby cos (romaine) or butter lettuce leaves
2 green tomatoes, sliced
4 dill pickles, sliced
Tabasco Green Pepper Sauce, to serve
8 burger buns, halved and toasted
Method
Divide the aioli, chicken, lettuce, tomato, pickle and Tabasco between the bun bases. Sandwich with the tops of the buns to serve. Makes 8
Southern Style Crispy Chicken Salad with Buttermilk Dressing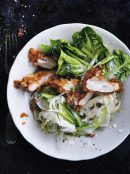 Ingredients
2 baby cos (romaine) lettuces, leaves separated
2 baby fennel bulbs, thinly sliced and fronds reserved
2 Lebanese cucumbers, cut into matchsticks
1 Granny Smith (green) apple, thinly sliced
200g blue cheese, sliced
1 x quantity buttermilk fried chicken (see basic recipe), sliced
buttermilk dressing
½ cup (125ml) buttermilk
¼ cup (70g) natural Greek-style (thick) yoghurt
½ teaspoon Dijon mustard
1 tablespoon white balsamic vinegar
½ teaspoon finely grated lemon rind
sea salt and cracked black pepper
Method
To make the buttermilk dressing, place the buttermilk, yoghurt, mustard, vinegar, lemon rind, salt and pepper in a small bowl and whisk to combine. Set aside.
Arrange the lettuce, fennel, fennel fronds, cucumber, apple, cheese and chicken in a large bowl. Drizzle with the dressing to serve. Serves 4